| | |
| --- | --- |
| | |
HOME

PRODUCTS:
• PERL EDITOR
• PHP EDITOR
• POWERPOINT
SLIDE SHOW
CONVERTER
• IMAGE RESIZER
• WEBPAD
• EASY
3D CREATOR
• PASTE & SAVE
BUY NOW
SUPPORT


Screenshot:




PowerPoint Slide Show Converter turns a presentation created with Microsoft PowerPoint into a self-running slide show application (exe file) that can be copied to any computer and will run on Windows 2000 (SP4+), XP, Vista, 7, 8, and 10 without requiring any additional program files.


Current
version:
3.2.4.2 (26-Nov-2014)

Download
size:
Approx. 4 MB

Licensing:
Shareware, free 30-day trial





Order Now:
$49, click here for detailed pricing and order information.
Awards: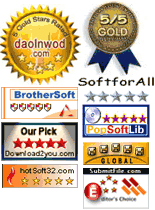 Download and try it for free for 30 days: self-running slide show using PowerPoint Slide Show Converter.

Does not require to have Microsoft PowerPoint installed on your computer! But if you do have Microsoft PowerPoint, you are able to use the Special Mode which gives you additional possibilities, such as creation of screen savers from your presentations. Also, the Special Mode conversion is a one-way process, the source .ppt file cannot be restored from the converted .exe file, so PowerPoint Slide Show Converter is also useful to protect PowerPoint presentations from unauthorized editing.

---
© 1999–2018 DzSoft Ltd. All rights reserved.
DzSoft® and the DzSoft logo are registered trademarks of DzSoft Ltd. Privacy Policy [an error occurred while processing this directive]